Shutting down tech support scams
FTC Consumer Information
May 16, 2022 | posted by Jason Nugent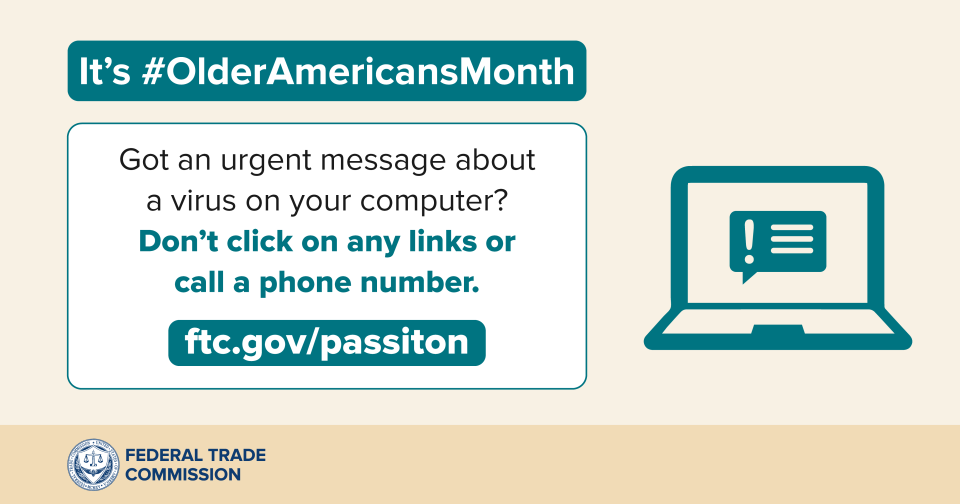 With technology, it's easier than ever to connect with others and people are just a click or call away. Nobody knows that better than scammers — who might try to contact you about a supposed virus or malware they've "found" on your device. So, during this Older Americans Month, remember — if someone unexpectedly calls or messages you, claiming your computer's security is at risk, it's a scam.
It's alarming to get this kind of random notification, especially if it sounds serious and looks legitimate. Scammers often pretend they're tech support from a well-known company, like Microsoft or Apple. They expect you to open an email, text, or pop-up if you see a familiar name. They may also try calling you, hoping you'll react to an "urgent problem" with your computer. That's how they get your personal information or money to "fix" it. They want you to pay for tech support you don't need, to fix a problem that doesn't exist.
Here's what to do:
If you get an unexpected call from someone saying there's a problem with your computer, hang up. It's a scam.
Don't click any links in an unexpected message or email. And never call phone numbers left in voicemails, emails, texts, or social media messages.
Don't give your personal or financial information in response to an unexpected request. Legitimate organizations won't call or message asking for your Social Security, credit card, or bank account number, or your password.
Update your computer's security software. If you suspect a computer problem, run a security scan to find and remove malware. And turn on automatic updates so your security software can keep up with the latest protections against security threats.
You might know these calls, messages, and pop-ups are fakes — but you probably know someone who doesn't. Please share this info with your friends and family, and pass it on to your community. And report scams to the FTC at ReportFraud.ftc.gov.
View the original article on ftc.gov.
---
Go back to news feed.